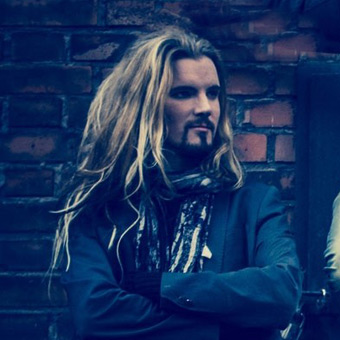 Eyes: Hazel (green outside, with a small golden brown ring inside)
Hair: dark blond, dyed black.
Earrings: none
Tattoos: six armlets with elvish writings, a Taurus sign, an eagle, and Aragorn's sword on left arm, Witch king of Angmar on right shoulder, Aragorn and Arwen's kissing scene on left side (last three from LOTR's movie)
Perttu Kivilaakso - biography
Perttu Kivilaakso was born on May 11th, 1978 in Helsinki.
Perttu began playing cello at the age of 5... which is a little bit young for that kind of instruments. Juhani Kivilaakso plays also cello, and when little Perttu saw him onstage at Savonlinna Opera Festival, he wanted to go onstage too.
Perttu Kivilaakso joined Apocalyptica in 1994, but when studio proposition came, he decided to focus on his studies.
Very talented cellist, he won the third price in Paulo Cello Competition in 1996, and joined the Helsinki Philarmonic Orchestra, which proposed a permanent place, and played with his father with the most prestigious musicians.
In 1999, he rejoined the band during the preparations / studio work for the album "Cult" and replaced Antero Manninen, who left Apocalyptica.
About music, Perttu listen to opera since childhood and he's a true aficionado, his favorite composer being G. Verdi.
He also loves metal (Amon Amarth, Judas Priest, Immortal, Testament, Slayer, Metallica, Napalm Death, Rammstein). He learned also to appreciate rock (U2, Muse), blues (Aretha Franklin) and all sort of music.
He likes to read a lot, he's a great fan of J.R.R. Tolkien, but he likes also H. Hesse, S. King.
Perttu watch also a lot of movies, preferably horror movies, his favorite being (not surprisingly) The Lord of The Ring trilogy. He also loves video games.