"Not Strong Enough" video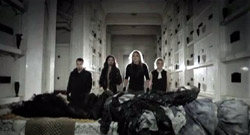 Apocalyptica feat. Brent Smith - Not Strong Enough
The original version of Apocalyptica's song and video "Not Strong Enough" was recorder with the vocal of Shinedown front man Brent Smith. Later the band has been forced to pull the vocals of Brent Smith off the release of the single "Not Strong Enough" in the US. However, Smith's vocal track remains on the group's latest album, "7th Symphony".
Eicca Toppinen said that the US radio stations had begun to spin the album version of the song with Brent, but they had no choice but to pull the single. Shinedown's record label, Atlantic Records, required the change due to the coinciding release of the Shinedown song "Diamond Eyes (Boom-Lay Boom-Lay Boom)", which is featured on the soundtrack for the Sylvester Stallone movie, The Expendables. Eicca stated that nobody could have foreseen the release of the movie happening at the same time as the release of the Apocalyptica single.
Instead Apocalyptica came up with a radical solution by bringing in Hoobastank singer, Doug Robb, to record "Not Strong Enough" and it is this version of the single that was released in the US at the end of January 2011.