"Songs From The Depths"
"Songs From The Depths" is Paavo Lotjonen's solo project. The event took place 17 July 2014 on Iniö island (Archipelago area), the place was society house of Iniö, that is not exactly a concert hall, but the audience was quite pleased with the sound and conversation with the musicians.
Another participant in this project was Tipe Johnson, who was a guest vocalist on Apocalyptica concerts over the past few years. The program included classic masterpieces and cover versions of famous pop songs. There were also new songs, composed by Paavo, with lyrics written by Tipe Johnson.
During the concert Paavo, as always, played the cello, and Tipe sang and played guitar. For the most "happy" song of the concert - "Too Good To Be True", Paavo changed the cello to iPad - in his opinion, cello is too melancholic for this song.
We don't know if Paavo was telling the truth or only kidding, but he told that reason for this project was that Tipe is finnish-swedish (they are known to be happy all the time etc.) and he lives in Kauniainen. The man like that should also be able to be "darker" and write darker lyrics.
Tipe thanked Paavo for being late from almost every rehearsals they have had at Tipes place, because that was usually the time when he wrote lyrics he was happy with.
Concert venue on Inio island was chosen because Paavo likes to spend time between Apotours in the Inio archipelago.
The visitors of the event enjoyed the photo-exhibition of Paavo's photo-arts, which took place in the same building. Theme of the photo-exhibition was inspired by Inio - Archipelago area.
We are thankful to Heidi Repo for photos and the report from the event.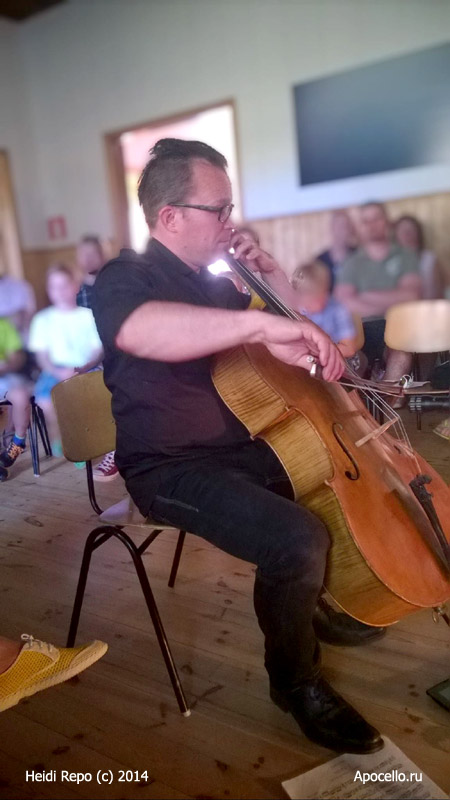 Set-list:
Bach Prelude
One More Try
Don't Ever Let The Sunshine Leave Your Eyes
That's All
In The Waves To Come
Cold Again
Too Good To Be True
I Don't Care
I Can See
Mr. Roberts
One Fot Company