Interview with the photographer Ville Akseli Juurikkala about his new Apocalyptica photo-book
Ville Akseli Juurikkala is leading rock photographer from Finland.
Ville has shot album covers and promo shots for over 100 artists (Slash, Good Charlotte, HIM, Hanoi Rocks). He has released three photo books (Nightwish: Dark Passion Gallery; The 69 Eyes: Route 69; Apocalyptica: Photobook). Also he has directed three music videos and two documentary films. If ever you come across a photo from a renowned Finnish rock band, most likely it's the work of Ville Akseli.
While on the job, Ville is known to be fast, funny and extremely disciplined - a combination which enables his subjects the comfort to relax, while showing their wild side. If you've ever seen Ville at work, you can tell there is a bit of magic in the air. Through the lens, Ville can transform any ordinary situation into an intrinsically beautiful image.
Today we are talking with Ville about his new project - Apocalyptica photo-book.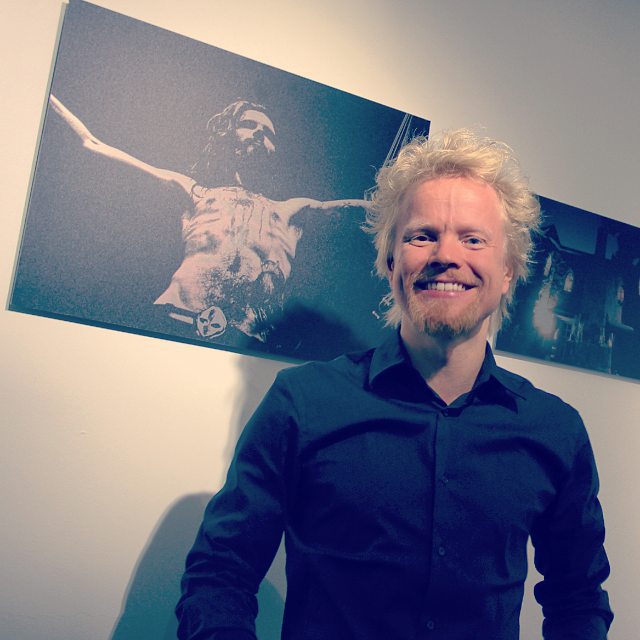 Ville, how did you get started in photography?
I firstly wanted to become a cinematographer since my mom is a movie director. Then I just started photography to learn about lighting and composition etc. But by the age of 20 when I was leaving high school I just realize I was already doing it as a profession. Why specifically band photography is that I used to play guitar and sing in many different bands since I was 10.
Who is the most important person in photography world for you?
I would say that Anton Corbijn has the biggest influence on my style as a photographer. But it was more in the beginning. Nowadays I really try to avoid any kind of influence from anybody else.
What was the biggest mistake you made when you first started out as a rock photographer?
Getting too much involved with the scene, the people and the lifestyle.
Photo: Ville Akseli Juurikkala
How do you as a photographer know if your photos are really art? Or if people, who posted comments to your works, on FB for example, are just being nice? At what point did you evolve from a person who takes photos to a photographer and then to an artist?
I don't.
Can a photographer define better what is art or not?
I would say it takes a human being to be able to judge that.
And what is art really?
I'm just happy when I can snap a photo that satisfies me.
And I will be even happier if someone else likes it too.
You already made photo books for 69 Eyes and Nightwish. What was your motivation when you started this project for Apocalyptica?
When I originally started this project the only thing that I had in mind was to make good booklet and promo shots for the "Worlds Collide" album. I guess that was my first photo shoot with Apocalyptica. That was 2006. And that is basicly when this whole project started. Without us knowing about it that point of course.
That idea about the photo book evolved later when I had been shooting the band again and again. And the idea about the photo book came from the band. I was working on with other book projects in Los Angeles at the time. And the whole project was postboned for a while.
But now year ago, at winter 2011, I was visiting Finland and the band contacted me again. This time the timing was perfect for me and we decided to finish this project.
How do you decide on locations and subjects?
Hard to define. It's more about what I feel that would be good or not. I guess that's about my work most of the times. To do what feels right.
Photo: Ville Akseli Juurikkala
Can we really see all the various aspects of musicians' life when they are on tour?
Certainly. Although, there is not that much various aspects of musicians' life on the road anyway like ever. It is very boring life mainly. People think that I see a lot of work when touring but in fact it is mostly just airports, hotel rooms and back stages. And as everybody knows they are just the same all over the world.
Who choose photos for the book? Was it your own choice or it was Apocalyptica choice?
Like with all my previous books too it has been all my choises. Usually the bands feel that I have the right eye for choosing the pictures and they just wanna check that there nothing too bad about them. And I must say that not a single time I had to take one picture away because of their sensorship.
Who wrote the titles and texts for the Apocalyptica photobook?
Eicca wrote the foreword.
Photo: Ville Akseli Juurikkala
I love your monochrome works and you also make colored. In which colors the new photobook was made and why?
It is little bit brighter colors than my previous books. Definitely still more desaturated than colorful but I guess my style is going little more towards colorful than greyer. There is a lot of black and white of course. But I would say my style has evolved a bit colorful than what it used to be. Same time it has become colder too. I use more of the blueish tones than the sepia.
You can see the different clearly when looking at my earlier books and this one. Although, I used to have colder style over ten years ago. When I started I used very colorful style. Then I went to desaturated sepia and now back to colorful. So I guess I'm just going back to my roots.
Is there anything, that you've photographed for the photo-book, impressed or surprised you?
There was many times situations when the guys in front of camera where doing a lot of things that certainly were surprising.
Apocalyptica guys just have this some kind positive madness. And it just comes naturally. I didn't have to direct them that much. They are just so crazy!
Do you remember what kind of impression did Apo make on you when you saw them for the first time?
The rock'n'roll energy! That was mind blowing.
Do you consider yourself an Apo fan?
Sure I do. Of course from the start since I have been a huge Metallica fan since I was 11. Metallica was the first rock show ever I went to see. I was 12 at the time.
And I liked Apocalyptica's own songs too when I first heard them.
But seeing them live. That was something else. I've worked with numerous rock bands over the years but none of them have really had the powerful stage presence and energy that these guys do. It's amazing what some people can do with three cellos!
And not forgetting the amazing Mikko!
Photo: Ville Akseli Juurikkala
Web-site: ville.juurikkala.fi


Do you have any recommendations for new photographers who whant to photograph rock-bands and musicians?
First of all, think again! Is this really what you want to do. It's mainly a very hard job.
If yes, remember one thing. Good social skills. You have to be easy going enough. It is hard enough for the band (and the roadies) to live in the small tour bus. Nobody wants to have a difficult person on board. If you consider yourself as too big of an artist it's not a good idea. They are the artist.
I'm just a passanger!
Interview: Evgenia Melnikova and Elena Jurievna
Photo: Risto Hyvarinen
© Apocello.ru, 2011