Flash mob with Apocalyptica and Steve Vai in Moscow
On the 1st of August Apocalyptica band and virtuoso guitarist Steve Vai took part in a flash mob as a part of "Vdokhnovenye" festival. On the stage of VDNH Green theater 84 Russian guitarists and cellists performed under the direction of the international stars. Steve Vai and Apocalyptica also performed full sets (Apocalyptica - 8 songs, Steve Vai - 7 songs).
Alexander Isakov, guitarist for "The One" band, told Apocello.ru about the preparation and his participation in this incredible event.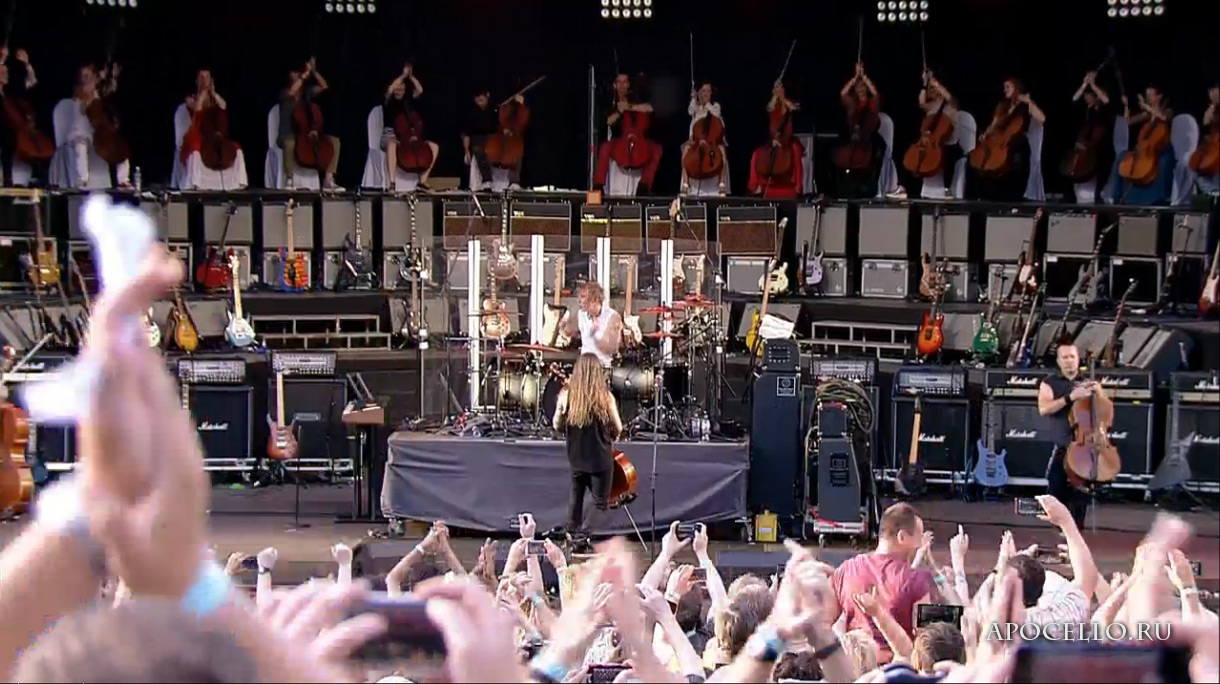 Countdown to this incredible day began unexpectedly, when a friend called me. He played guitar, when he was a student, so he saw a post with information about auditions at his former teacher's page. He called me crying: "Duuuude, I must see you playing with Vai! We're filming you tomorrow, learn songs!".
Auditions consisted of 2 parts: 1st was to film themselves playing a song, 2nd – chosen musicians were invited to the auditions at VDNH to play the song with a metronome.
When I was invited to the flash mob, I was skeptical of that. I couldn't believe that miracle. But I embraced the term of the event at the first rehearsal already – powerful sound on 50 guitars, deafening drums beating out the time, cellos striking in the back. That made my skin crawl. I must say that I met a lot of people I knew, whom I hadn't seen for a long time, I was happy that they continued playing and enjoying music. We had five rehearsals, two of them with Apocalyptica and Vai. Damn, I've been rehearsing with Apocalyptica and Vai! AAAAA!
Almost every rehearsal lasted whole day long, but no one ever complained, music had united us all.
Curators spent lots of time on organizing musicians' entrance. We had a strict schedule. First rehearsal showed that all the musicians were entering the stage within 25 minutes, and we needed to do that in 90 seconds. Can you imagine that? But in the end we achieved that goal.
I must note that all the musicians were scrupulous about learning the songs, so we mainly had some technical and organizational issues at the rehearsals.
Apocalyptica and Steve Vai
We saw Apocalyptica for the first time at the next-to-last rehearsal. They came there right from the airport. They looked really tired. All the members of the flash mob were understanding of the situation and didn't touch the musicians, though, after some time had passed, Apocalyptica got into the spirit and began to communicate with us. They turned out to be really cool and talkative. Without that star fever... They thanked us for the rehearsals, and we thanked them. They smoked with us outside and talked about music. Autograph session looked like a smoke break, when everyone got photos, had fun and made faces.
Steve Vai also got there right from the airport, but along towards evening. Though his instruments arrived earlier than he himself. Organizers asked us to carry Steve's guitars to his dressing room. I don't think I'll ever be closer to Evo guitar than I've been at that moment. Vai was less talkative, lots of people were coursing around him, and he was always under the strict schedule.
We played "Kashmir" at the joint rehearsal. That turned out to be really magnificent. After that Steve began to teach us another song. Everyone was standing without any idea of what was going on. Organizers were trying to tell Steve that everything was fine, that we knew, but Vai was already up to the hilt in music, divided musicians in groups and showed them their parts. Then Andrey - the chief of Jgroup - approached him and told him: "They already know, watch this". And he asked us to play. Everyone as one man began to play. Vai laughed and stepped back. He was really surprised, that we were ready with the song "Flashmob".
Despite the strict schedule, he devoted a lot of time to the autograph session, talked to everyone, and after the show signed some guitars, of course, those of the most quirky guys.
Without any doubt, this event will make it into history of Russian guitar music. The 1st of August became some kind of Everest of this summer, or maybe of the whole life, for some of the guys. Dreams don't come true every day. Special thanks to Jgroup agency. Their chief was glad of our success with all heart, he shed a manly tear at the show also. It is really hard to meet someone, who is so enthusiastic about the thing he does nowadays!
Translation by Yulia Bessonova
Photo: Alexander Isakov, Svetlava Bobrova, Apocalyptica Instagram
©Apocello.ru, 2016